In the news
Wish Wednesday: Former Wish Kid Donates "Lemonade" Profits To Make-A-Wish
November 2015
Tra Thomas, a former wish kid, decided to use a portion of his Lemonade Day profits and donate it to the Make-A-Wish Foundation.
Lemonade Stand Day: Policy Hack winner's pithy plan to introduce entrepreneurship to schools
October 2015
An education initiative aiming to instill a culture of entrepreneurialism in young Australians has been crowned the best idea at assistant minister for innovation Wyatt Roy's inaugural Policy Hack over the weekend.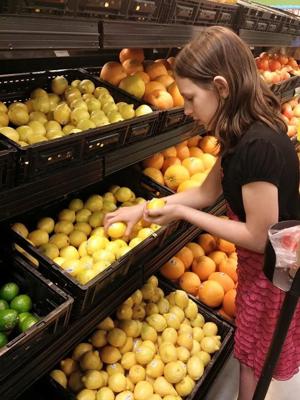 Girl exceeds goal of buying 300 books for homeless children
August 2015
National Entrepreneur of the Year winner, Katrina Lawrence, raised enough money to beat her goal of providing 300 books to homeless children in the Fort Hood-Killeen area.
Watermill Express supports Lemonade Day McAllen
August 2015
Watermill Express has teamed up again with Lemonade Day McAllen. Children who participate in Lemonade Day may use Watermill Express to prepare their lemonade for free!
Hundreds of East Texas Kids Participate in Lemonade Day
July 2015
The Green Girls from Overton bring their lemonade to Tyler's first ever Lemonade Day after their original stand was shut down for not having the right permits
Fond du Lac students raise Nearly $20,000 during their first Lemonade Day
June 2015
Hundreds of students work hard during Fond du Lac's first ever Lemonade Day to raise almost $20,000.
Sisters' Lemonade Day Business Earns Sweet Reward
June 2015
Elizabeth and Anna Nevels continue the tradition of raising money for Hope House with their stand that their older sister started in 2009.
Houston youth turn Lemonade Day into life lessons
May 2015
The two things you need to know about Lemonade Day is that is is about so much more then lemonade and that it is not just about one story but thousands of stories.
Learning Financial Literacy through a Lemonade Stand
May 2015
Learn how Lemonade Day helped Mikaila Ulmer start her own successful business, BeeSweet Lemonade, that was featured and successful on the hit show Shark Tank. 
D.C. Kids Earn 'Start Up' Money as Part of GW's Lemonade Day
April 2015
Around 900 kids went through George Washington's Mentor Program and presented their ideas to earn startup funding for their lemonade Stand.
Young Entrepreneur, Yash Semlani, interview on the Business Makers Show
June 2014
Yash Semlani shares the story of how he went the extra mile during Lemonade Day and made nearly $5K in profit.
Kids make money, learn financial responsibility at Lemonade Day
February 2014
Small business is important, and some of the most successful business people in Louisiana hope some tiny businesses keep that trend going.
Students conduct market research for Lemonade Day
January 2014
Students in Salem, Oregon serve up some delicious lemonade to conduct market research as they prepare for Lemonade Day.
Lemonade Day: Tapping Into Student's Potential
January 2014
"If we teach our children as we taught them yesterday, we rob them of tomorrow." – John Dewey
Julie Eberly, TEDx Loyola Marymount U
May 2013
If small business is the engine that keeps America running, then Julie Eberly believes that lemonade is the fuel that powers that engine!
Lemonade Day – Jim Blasingame, The Small Business Advocate
May 2013
Julie Eberly joins Jim Blasingame to discuss some of the entrepreneurial fundamentals this year's National Lemonade Day teaches hundreds of thousands of children around the country.
Lemonade Day – The Business Makers Radio Show
April 2013
The BusinessMakers welcome Lemonade Day's national president, Julie Eberly. This is one of our favorite events and this year will be held on Sunday, May 5. One of the most successful entrepreneurship events ever, Lemonade Day was first held in 2007 and today reaches kids in more than 35 cities.
What does entrepreneurial success taste like? Lemonade!
April 2013
The best way to identify a child's aptitude for business ownership is to give them the real life opportunity to start, own and operate their very own business. At Lemonade Day, (a national non-profit organization based in Houston, Texas that is passionately addressing this gap) young people ages 3 to 18 are taught the 14 core principles needed to start their own business…a lemonade stand!
Lemonade Day Gives Kids a Chance to Explore Entrepreneurship
April 2013
What was your first business? For many of us, it was the classic lemonade stand. Finding the best location for a booth, pricing the product, and dealing with customers can help budding entrepreneurs get a taste for what it takes to run a successful small business.
On Lemonade Day, District students get a lesson in loans, marketing and profits
April 2013
Lanandi Addison, 13, wants to open a skateboard shop after college. But she's starting with a lemonade stand. Lanandi and her business partner, Ariyon Lee, both seventh-graders at Paul Public Charter School in Washington, were among 1,000 District students preparing to set up lemonade businesses on Sunday.
On Lemonade Day, District students get a lesson in loans, marketing and profits
April 2013
Some D.C. students spent their Sunday working, but they were still having fun while do so. Sunday was D.C.'s first-ever Lemonade Day, part of a nationwide effort to help teach children about running a business and to inspire young people to become entrepreneurs. Kids as young as 3 and as old as 18 set up stands across the District.
Lessons from the Lemonade Stand: Realizing Your Dreams
April 2013
Dreams come in all shapes and sizes. I'm here to tell you firsthand that all dreams can be realized if taken one step, and in this case, one sip at a time.
Lessons from the Lemonade Stand: Finding Your Vision
March 2013
At Google, we work with entrepreneurs and startups around the world that are doing incredible work. Over time we've found that those who have a strong vision of what they want to do are more likely to achieve success. Many of the best entrepreneurs, young or old, start with a firm idea of a problem they want to solve or business they want to launch.
Lessons from the Lemonade Stand: March Madness and the game of entrepreneurship
March 2013
Life is often likened to a game of chance with more pitfalls than joys, but whose joys are worth the stumbles. However, in the game of entrepreneurship, the thrills often outweigh the disappointments.
Lessons from the Lemonade Stand: Teamwork and entrepreneurial success
February 2013
Entrepreneurship, in reality, is largely a team sport. I learned this lesson early in life. I was born and raised in New York City in a neighborhood loaded with retail stores. When I was 11 years old, I discovered that all the retail establishments in the neighborhood were more than willing to hire kids to shovel the snow, but there were two problems from a young person's standpoint.
Lessons from the Lemonade Stand: It takes a village to raise a youth entrepreneur
February 2013
Young entrepreneurs are an important part of the small business community in the U.S. With more youth engaging in entrepreneurship each year, child-owned businesses are a great barometer of the small business sector in America. The youth of today will define the next 100 years of the American and on a global economy, worldwide business sector.
Lessons from the Lemonade Stand: Fail Fast, Embrace Mistakes
January 2013
You may have heard the saying "fail fast." That's because entrepreneurs know failure is a part of starting any business, and the ones that endure or live to fight another day embrace failure.
Program Encourages Youth to Become Entrepreneurs
December 2012
Lemonade Day is now powered nationally by Google for Entrepreneurs! Google will provide tools and technology to help Lemonade Day fulfill its mission of empowering today's youth to become tomorrow's entrepreneurs!
Lemonade Day is a great chance for kids to learn entrepreneurship
December 2012
Julie Eberly, president of Lemonade Day and a mother of four, knows that parents want nothing more than to ensure their children's success. She says, "We wanted to make learning about entrepreneurship fun and experiential, and what's more easy to understand than a lemonade stand?"
Lemonade Day Launches Donation Experience(TM) Application for Dynamics ePlate(TM) Credit Card Device Dynamics ePlate Users Make Donations To Support Youth Entrepreneurship with Each Purchase
October 2012
Lemonade Day Launches Dynamics ePlate Donation Experience to empower today's youth to become tomorrow's entrepreneurs!
HISD Inducts 'Champions for Children' into 2012 Hall of Fame
October 2012
Prepared 4 Life/Lemonade Day's induction into the 2012 Houston ISD Partnership Hall of Fame
Rebalancing the Stool
September 2012
"Rebalancing the Stool" See the second leg which encourages entrepreneurship and highlights the importance of teaching entrepreneurship at an early age.
Entrepreneurship Education Is Not Just for the Collegiate Anymore
September 2012
Mandy Graessle's write up on Lemonade Day in the Huffington Post
Lemonade Day Hits The Tri-State Area
June 2012
Claudia Fox talks about Lemonade Day in NYC
On Lemonade Day, Kids Learn about Entrepreneurship and Fun at the Same Time
May 2012
Opening a lemonade stand seems like simple summer fun, a childhood rite of passage. But, according to seasoned entrepreneur Michael Holthouse, it can be so much more.
Celebrating National Lemonade Day and Entrepreneurial skills from a lemonade stand
April 2012
Celebrate Lemonade Day by teaching entrepreneurial lessons to children. Julie Eberly joins Jim Blasingame to discuss the collaborative, entrepreneurial lessons and projects of LemonadeDay.org.
Teach children about entrepreneurship with a lemonade stand. Julie Eberly joins Jim Blasingame to discuss National Lemonade Day that encourages teaching entrepreneurial skills and thinking to children through lemonade stands.
May 2012
Julie Eberly on Fox & Friends Weekend with NYC participants!
March 2012
Michael Holthouse talks to John Stossel
Lemonade Day is a salute to youthful entrepreneurs
April 2011
When you tell someone you are going to teach youth how to start their own business by using a lemonade stand, two things happen. First they smile. Then they nod.
AOL Small Business Blog
April 2011
"A lemonade stand is iconic in America for a child's first business.
It takes us back to a simpler time when things didn't move so fast,
when families were more involved …"
April 2011
"Lemonade Day Teaches Youngster About Entrepreneurship"
March 2011
"The lemonade stand. For some teens this summertime
staple is no longer a past time, it's a profit center…"
April 2010
"Catching up with Michael Holthouse"